---
Formula B (F1000) Specs
Chassis of the Formula B F1000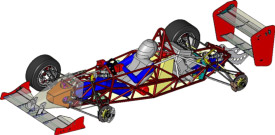 The F1000 tig welded chrome moly alloy steel tubular frame with stressed aluminum under tray optimized for torsional rigidity
Chassis complies with all SCCA rule and regulations for 2010
Crash Structure
Aluminum front impact crush structure meeting current SCCA crush structure requirements with GFRP impact absorbing nose structure.
Triangulated Side Impact Frame rails for superb impact absorption and chassis rigidity.
Bodywork

12 piece bodywork (color impregnated gelcoat)
Custom colors available
Suspension

Independent pushrod activated double wishbone suspension.
A-arms made of streamline 4130 alloy steel tubing with Aurora high strength Teflon lubricated bearings and rod-ends.
Uprights and hubs are of billet aluminum AL6061-T6 construction along with Toe and Camber blocks. Adjustability includes: Caster (0 to 6deg), Camber (0 to -5deg), Ackermann.
Any 12.7in length shocks (dampers) with 2.0", 2.25" or 2.5" springs.
Rack and pinion steering.
All components are non handed and most are universal.
Upper and lower A-arms are non handed to lower spares cost.
Brakes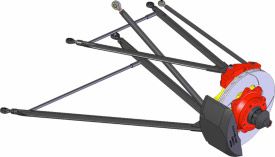 Alcon 4-piston racing calipers on a 278mm diameter ventilated discs
Cockpit adjustable brake balance (bias).
Tiltan master cylinders
Wheels
Front: 8" x 13" three-piece Jongbloed JRW 330 wheels
Rear: 10" x 13" three-piece Jongbloed JRW 330 wheels
Other sizes are available
Drive Train
Damped Chain Drive optimized for smooth initial throttle transition and gear/chain impact loading reduction
Low rotational inertia Taylor Racing Torsen limited slip differential housing with integrated sprocket mount. Fully adjustable chain tension and sprocket alignment.
Aerodynamics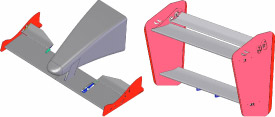 Dual element fully adjustable composite front wing with spill plates.
Three element fully adjustable rear wing. Lower element optimized to augment diffuser scavenging for improved aerodynamic efficiency.
Stepped F1 style front splitter.
Cooling
Rod Davis custom aluminum radiator integrated into left side pod.
Aluminum oil cooler integrated into right side pod for maximum cooling.
Engine
Any Sport Bike / Super Bike 600cc to 1300cc motorcycle engine.
Fuel System
High capacity 10.8 gallon FT3-1999 compliant ATL fuel cell incorporating an internal high pressure fuel pump.
Oil System
High capacity 7+ quart dry sump oil system developed for the Honda CBR1000.
Options for other engines available
Electrical
Full chassis wiring harness.
Safety
Willians 6-point anti-submarine safety harness (belts).
SPA 3.375 liter FIA approved fire protection system.
Roll-over hoop designed to exceed SCCA roll over crash safety requirements.
Options
Cockpit adjustable anti-roll bar, front and rear.
Electric or air paddle shift
AP Racing 4-piston racing calipers on ventilated disks
Brembo 2-piston racing calipers on ventilated disks
Double adjustable Penske shock
Spare packages available.
Pro-Package
3 and 4-way adjustable Penske shock.
Engine performance package with each car dyno
Paddle shift, electric or air.